Canasta online is the card game Canasta played over the Internet. Presumably people who wouldn't otherwise be able to play Canasta are now able to play because the Internet makes it easier to connect with other Canasta players. Online Canasta is a far cry from the phenomenon that online poker has become, but it's a game with its adherents, for sure.
Online Canasta Games Versus Traditional Canasta
Traditional Canasta is played at a table with a deck of cards and several players. It's not unusual for drinks and/or music to be involved; Canasta is meant to be a fun, entertaining, party-ish type card game. If you want the same atmosphere for your on line Canasta game, we recommend mixing a pitcher of margaritas or some other cocktail. We also recommend turning up some lively music, maybe some Jimmy Buffett.
Canasta, unlike poker, blackjack, or even Rummy, is almost never played for money. All Canasta games that I know of, online or not, are non-gambling games. But someone can bet on anything, so it's possible that someone, somewhere is playing online Canasta for real money. But it's not an online gambling industry in the same sense that online poker is. Canasta online is just a way to have a little fun, kill a little time, and occupy your mind.
Game Colony Canasta
As soon as I mentioned that people don't play Canasta online for money, I did some more searching on the Internet, and it turns out that there is at least one Internet Canasta game you can play for real money. It's at the skill game site, Game Colony, where they offer skill-based games in tournament play with prize money based on the entry fees received from the players. Game Colony takes a percentage of the entry fees in order to make their money. Some people at Game Colony get really hooked on climbing up the tournament ladder too; it can be a very competitive environment.
Game Colony says that their games are NOT gambling, as they're completely skill-based tournament type games, which are completely legal to play for money in most states. They do offer a play money version as well as the tournament version, so anyone can play Canasta on line at Game Colony.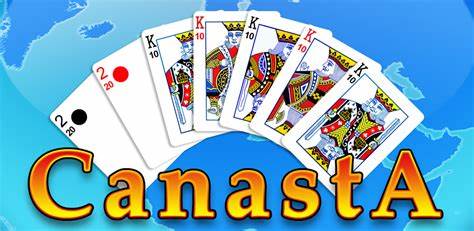 Yahoo Canasta
Several major and minor sites offer online versions of Canasta to play. One of the more prominent sites with a Canasta game available is Yahoo Games. Like most card games at online game sites, the shuffling, scoring, and dealing are all handled automatically by the computer program. Players make decisions about which cards to discard and which melds to declare, just as they would in a regular game of Canasta played at the kitchen table. Players also get to choose between 2 and 4 players at the table, whether they get to draw 1 or 2 cards each turn, and whether it takes 1 or 2 Canastas to go out. The Yahoo Games version of Canasta has relatively primitive-looking software, but it certainly serves its purpose.
Canasta.net
Canasta.net also offers a version of Canasta specifically for Windows. You can play versus the computer or with other players via a LAN. I haven't played their "Canasta for Windows" game, but I welcome input from folks who have played it. I'll update this page accordingly. Unlike the Yahoo game, this version of online Canasta costs $19.95 to download.
If you know of other good Canasta games online that we should discuss on this page, please contact us and let us know, and we'll make the appropriate changes to the page.